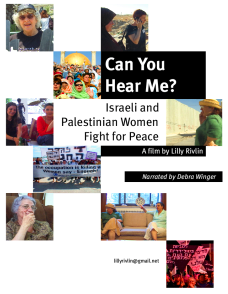 CAN YOU HEAR ME?
ISRAELI AND PALESTINIAN WOMEN FIGHT FOR PEACE
Lilly Rivlin, Producer, Writer and Director
Debra Winger, Narrator
50 minutes, 2006

"Can You Hear Me? Israeli and Palestinian Women Fight for Peace," is the first documentary to explore in depth the role of Israeli and Palestinian women peace activists dealing with one of the world's oldest conflicts.
Though prospects for peace have ebbed and flowed between Israelis and Palestinians, women peace activists have worked consistently to bring an end to the bloodshed that has brought so much anguish to both sides. No matter how desperate the political situation seemed these women never stopped communicating with each other.

They come together in their bereavement over the loss of loved ones and to demand a better future for their children and grandchildren. There is bonding, there is friction, there are differences of opinion.

But most of all it is a story about women who have hope and keep on trying to hear each other. . .and do not give up their work for peace.
Can You ar Me? Israeli and Palestinian Women Fight for Peace sheds light on what women can accomplish not only in the Israeli-Palestinian conflict but the power of their work in other conflicts throughout the world.

Selected screenings: Honorable Mention, Jerusalem International Film Festival, Mill Valley International Film Festival, Denver Film Festival, Brooklyn Museum, United Nations, NCJW, Jewish Women's Film Festival, Anchorage International Film Festival, Cinema Arts Film Festival, Huntington
Hip Slope Mama interviews Lilly Rivlin about her documentary
CAN YOU HEAR ME? Israeli and Palestinian Women Fight for Peace:
"The film revolves around the relationship between Leah Shakdiel, an Orthodox Jew, and Palestinian Maha Abu Dayyeh Shamas, activists who are convinced that women's efforts can lead the way to peace, and who are committed to dialogue, despite its difficulties. Leah Shakdiel emerges as the center of the film.
Her passionate commitment to mobilizing women on both sides of the divide breaks the stereotype of Orthodox women. Her powerful presence, highlighted by a straightforward, unassuming style, makes for a compelling film." -- Barbara Epstein, UC, Santa Barbara